SM 888-P All in One Hot-Fix Setting Machine by Ultrasonic & Electric System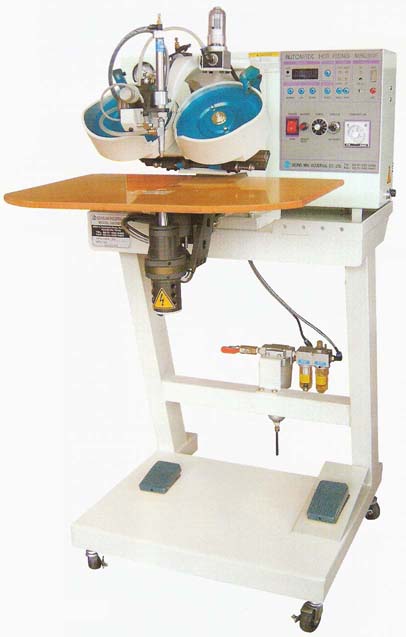 Tray that run to right and left and upper nozzle cylinder body revolution of method applied to this product are the first technology developed by Seungmin Industrial Co., Ltd firstly. This technology is world first and an unique technology that is already recognized since 2002 in international market by the best technology.
Features
New era of Hot-Fix setting machine
Equipped with Ultrasonic & Electric system in one machine
Equipped two different trays in one machine and it works at the same time and it's possible to work sampling, job and multiple purpose easily. For example, you can put hot-fix rhinestone in No. 1 tray and put metallic hot-fix in No. 2 tray, and can work for making designs by ultrasonic or by electric heating system.
Even if there are two different size of hot-fix rhinestone or metallic hot-fix like octagon, it's possible to fix them by ultrasonic or electric heating system without waiting time.
Its adopted with one-touch button system for changing the operation between ultrasonic and electric heating, so even beginner can use easily, and brings lots of convenience to the user of this machine.
This machine has all features of SM 888-N & SM 888-H in one machine.
Work speed : 20~130psc /minute.
Application
Available Rhinstone size : 2-8mm (8mm available only by option)
Available Rhinstud size : 2-8mm (8mm available only by option)
Available clothes : Denim, Polyester, Cotton, Silk, Others
Product : Jeans, T-shirts, Women's wear, Underwear, Belts, Bags, Caps, Accessories, Label, Embroidery, Children's wear etc.
Specification
Power Supply : 220V, 1-PH, 50/60Hz
Air pressure : 5-6Kg/cm2
Dimensions : 660x550x1,200mm
Weight : Net : 78Kg Gross : 100-120Kg
Required Air Compressor : over 2HP
Devices to be supplied by FOC : Cylinder Nozzle 4pcs (#1:2mm, #2:3mm, #3:4mm, #4.5~6mm)
Rotating Plate : 2pcs (#1:3~4mm, #2:2, 5~6mm)
Tool set